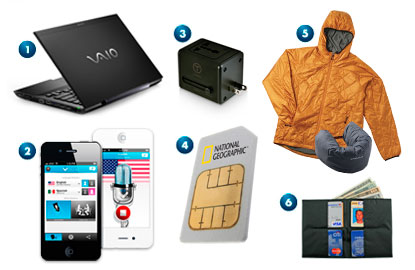 The first business trip away can be a source of excitement, the change from the norm and the chance to experience the cultural significance of the inside of the identikit hotel that you have been put up in. However, this excitement is often diluted every time your boss calls you into his office and tells you that you are to jet off. Eight hours of meetings and polite small-talk can be somewhat draining after a long flight and before the prospect of an uncomfortable night's sleep.
But, even if the business trip isn't exactly getting you up off your seat in excitement, there are a number of ways to make the journey more exciting and get the most out of the experience.
Voice Recognition for Word Processor
If you are required to attend lectures, seminars and classes as a part of your business trip, then you may be expected to come back with substantial notes for the rest of the team. A couple of hours' of note taking can be incredibly strenuous and cause a huge strain on your hands. Alternatively, take a tablet with a word processing program and voice recognition software. Turn this on and sit near to a speaker or the speaker and let your word processor do the hard work.
You can always ask for the notes from the speaker, but there is a chance that it will just be the bare-bone slides of the talk and not contain any useful exploration of the slides. Furthermore, points made by other parties may not be present.
Loyalty Cards
If you are visiting different locations on a regular basis, then it may be preferable to get loyalty cards for popular franchises. Franchises such as Starbucks are found in locations all around the World and their Starbucks Card can be used in most outlets giving you a caffeine boost when you may need it most. These loyalty cards bring with them a number of benefits including free drinks and discounted prices, saving you money and giving you a small sense of achievement.
The StoCard app on iOS and Android helps store all of these electronic loyalty cards in one efficient and simple-to-find place so you won't be frantically packing them into your wallet on the day of departure.
Air Travel Benefits
If you are travelling overseas then it is likely that you will be spending a lot of time in airports and the air. Remove the headache from this sometimes laborious task by encouraging your management to invest in a flight benefits scheme. PartnerPlusBenefit from Lufthansa offers frequent flyers numerous incentives and benefits – making regular travel more affordable and more comfortable.
PartnerPlusBenefit members can make money for their business whilst enjoying a selection of benefits including free upgrades, limousine transfers, airport parking, gift cards and more.
Luxury Hotel Stays
Ensure that you have a little bit of control over where you'll be resting your head by encouraging your company to invest in a reputable hotel scheme. Rather than risking being stuck out in a bedraggled hostel with questionable running water and an unnerving atmosphere, help guarantee a stay in a quality hotel.
Hilton HHonors offers members a significant number of benefits for both the guest and the company putting up the guest, encouraging a stay in a finer hotel. The scheme includes a fantastic range of benefits including free stays for spouses, bonus points, free nights and upgrades.
Whilst these schemes and initiatives may not make it any easier for you to be away from your loved ones, they can certainly help make it more comfortable.