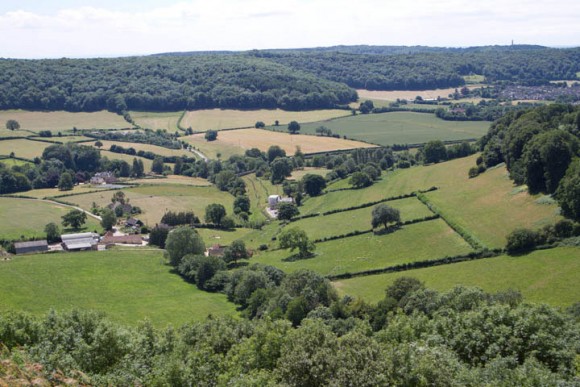 One of the advantages of living in Britain is the ease and convenience with which you can escape the daily grind of urban toil, and flee to the countryside. Trains and buses fan out from the cities to every nook and cranny, and car hire makes it even easier to explore the hills and dales less travelled.
Most Brits agree the Cotswolds are one of the most beautiful areas in the Isles. The largest of the UK's 38 Areas of Outstanding Natural Beauty (it was designated in 1966), the rolling hills are laden with picture postcard stone walls, beech woods and villages. Immortalised in print and paint for centuries, the Cotswolds represent the archetypal English landscape.
Author Bill Bryson has said that driving a car is the only way to truly see the Cotswolds. He's right – its remoteness is its charm and also the drawback for public transport lubbers. Car hire will get you so far, and walking will do the rest. Once there, newcomers will see something they recognize, even impressionistically. But how did the Cotswolds become so entwined with the Arts?
Chipping Campden, a typically picturesque Cotswold town in Gloucestershire, was built on the wool trade during the Middle Ages. 'Chipping' comes from the Old English word 'ceping' meaning 'a market-place', and is common to many towns dating back to the 14th Century (Norton, Sodbury etc). The honey buildings lining the high street were quarried from the local limestone, and the town boasts a number of idiosyncratic buildings, such as the Market Hall, built in 1627.
By the time it became known as the centre of the Cotswold Arts and Crafts Movement in the early 20th Century, Chipping Campden and the surrounding areas had inspired every writer from Shakespeare to Jane Austen. Artists such as Rembrandt were moved to immortalize the landscape on canvas.
The solidification of the area's reputation for the arts was in itself an 'escape to the country' of sorts.  Led by Charles Robert Ashbee, the Guild and School of Handicraft moved from the grimy slums of Edwardian East London and set up shop in Chipping Campden in 1902. Specializing in jewellery and furniture-making, the movement marked the beginning of a kind of industrial devolution, whereby the poverty and filth associated with inner city living was eschewed in favour of a pastoral existence, harking back to rural Old Albion.
Artists flocked to this romantic – perhaps illusorily so – ideal of English country life. And while today's urbanites might be reluctant to throw off the shackles of the pressure-cooker metropolis for good, they still come to the Cotswolds to at least imagine another way of life. So if you're looking to emulate the Cotswold way of life, search for your own weekend cottage, hire a car in London, and follow in the footsteps of some of Britain's greatest visionaries.