Not many people know of the beautiful Islands of Seychelles that exist. With many islands, beaches and cultural venues to see, Seychelles is easily a top destination that you can brag about and say, "I went there before it was popular."
Anse Georgette Beach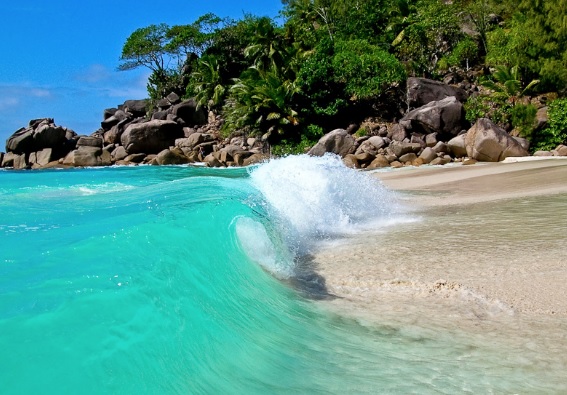 (Reference: http://www.iloveseychelles.com/)
Seen as one of the most beautiful beaches in Seychelles, it is tucked away in a nook of the coast that creates a peaceful and secluded environment. With crystal clear blue waters, blue skies and vividly green leaves, it looks like somewhere out of a painting. You won't catch the smog of traffic here, as it's inaccessible by car, you'll have to plan a hiking trip to get here!
The trail runs through the Constance Lemuria, which has beautiful and heavy vegetation surrounding the resort, so you can imagine the allure that lies behind the trees. Located on the Praslin Island, this serene beach is a perfect destination after a long hike.
Sri Ranganathaswamy Temple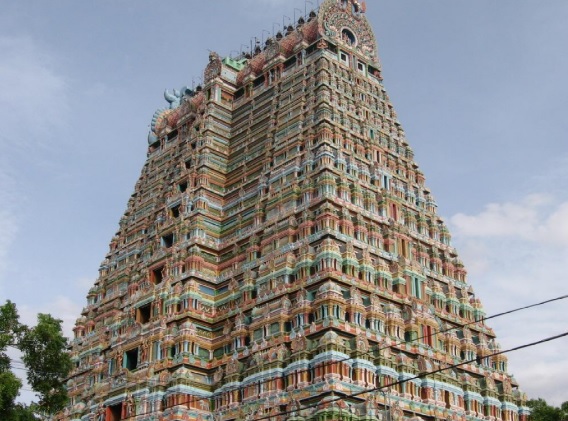 (Reference: http://www.wikimedia.org )
A beautiful religious site, this South Indian Hindu temple features gorgeous architecture, which pays homage to its cultural roots. Noted as one of the most colorful in the region, it's located smack dab in the middle of the town for all eyes to see.
But for more of a backstory on this beautiful area: this temple was dedicated to Lord Ranganatha and is a very praised shrine that millions of visitors come to see each year. It is also one of the largest temples in the world. Towering over the trees with vivid colors and intricate details, it's inspiring. Taking up about 156 acres, this temple dates back to the 10th century.
When you visit, make sure to ask of the many legends that have this temple set as a scene. It will give you great vision on the history and culture of the area. Located in Quincy St. Victoria, Mahe Island in Seychelles, this is one location you don't want to miss.
Marie Antoinette Restaurant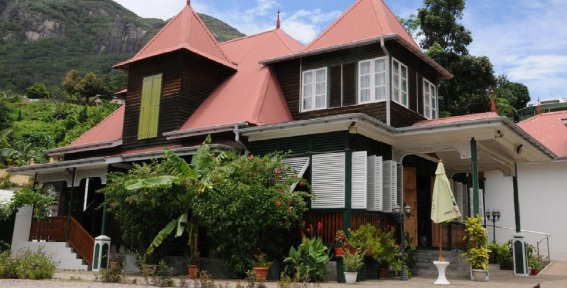 (Reference: http://www.marieantoinette.sc)
This wouldn't be a complete list without somewhere to grab a bite to eat! Located on the gorgeous port Launay, you'll have beautiful views of the coast, crystal clear waters and an island. But the restaurant itself is in a wooden house that hasn't been changed for almost 100 years. Noted as a national monument, the Marie Antoinette Restaurant is one of the top eateries in Seychelles.
Opened as a restaurant in 1972, the Marie Antoinette is one of the few in the area that has the original architecture and design. Declared a national monument in 2011 and has been a standing structure for over 100 years, it was previously named "Le Grand Trianon".
Of course, it was re-named after Marie Antoinette, the French Queen. You can learn more about the Queen Marie on Netflix, which I highly recommend. The life of Marie Antoniette is quite intriguing, even if you are not a history buff. Just be sure to use a VPN if watching it abroad. It is also known to be the homestead of the Livingstone Gallery when Henry Morton Stanley, an American adventurer stayed there during his travels and dubbed it the "Livingstone Cottage."
Waterfall at Port Glaud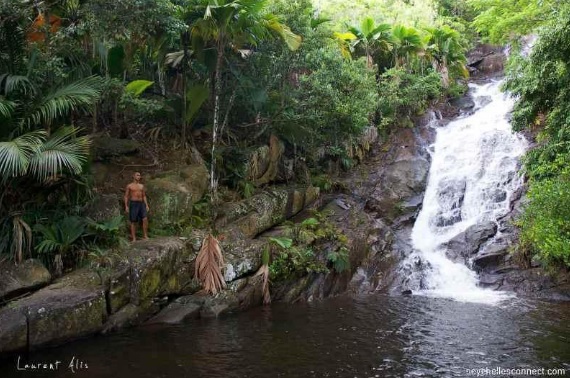 (Reference: http://www.willgoto.com/)
No vacation is a vacation without escapades by a waterfall. Near the Constance Ephelia resort, this is located at a beach at the Port Launay as well. Less than a mile walk from the road, this beautiful water is serene, calming, and surprisingly peaceful despite it not being buried in the woods, away from life. When you go swimming at this beautiful location, you'll be surrounded by a jungle and you can follow the waterfall into a natural freshwater pool.
Not only will you get a taste of the natural plant life of Seychelles on your hike, you can discover different species than ones known to your homeland. If you want to continue hiking, you're able to run alongside the entire river until the end thanks to trails and natural paths along the way. Adventure waits in Seychelles!
Conclusion
Seychelles isn't your typical resort vacation. Like Mauritius, it is a African archipelago with an exotic identity that separates it from your typical vanilla holiday experience. Here, you can see the beautiful natural vegetation that surrounds the region as well as dip your toes into beautiful crystal clear waters. You can also become cultured in their religious architecture as well as get your fitness on during hikes through Seychelles' beautiful jungles.