One of the great things about living or visiting London, is that not only does it have a rich history when it comes to music, but also a thriving contemporary music scene. If you are a lover of music the city simply does not disappoint when it comes to offering the best venues for music lovers. If you are keen to see new and upcoming acts, then going to bars that offer live music is the perfect way to do this. If you are keen to see new and upcoming acts, then going to bars that offer live music is the perfect way to do this. For a full listing of London Bars visit www.worldsbestbars.com.
The Old Blue Last, Shoreditch
This bar is made for music lovers. Known as having the best jukebox in the whole of London, it also hosts the best bands and DJs every night of the week. As well as this you can expect great service and an electric atmosphere. Some of the more famous artists to have performed in this bar include Lilly Allen, Young knives and Arctic Monkeys. Entry to the bar is normally free but they may charge during special events.
The Filthy McNastys Whiskey Café, Islington 
The bar has grown in popularity for hosting some of the city's best rock artists. One cool thing about the bar is that it has memorabilia from some of the best music groups in London on its walls. You can be assured that some of the most popular artists in London can trace their roots to this bar. Bands such as the Libertines used to play here when they were getting started. Their memorabilia can attest to this.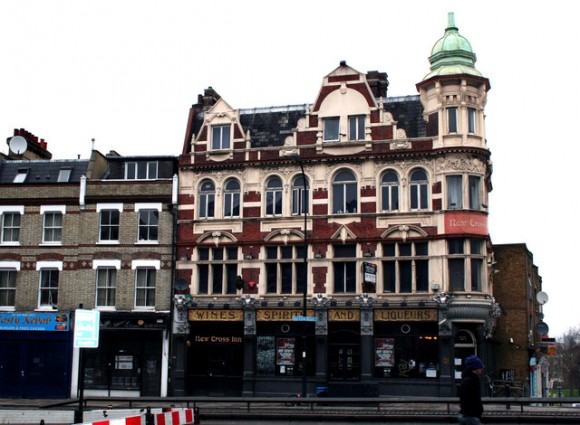 The George And Dragon, Acton

The bar has both an old man and a youthful feel to it. The bar is quite popular judging by the large number of people who visit every single night. The live music is great coupled with great DJ's who seem to know how to pull in a crowd.
New Cross Inn, New Cross
This bar started out as an Irish bar in London but has over the years opened its doors to all people. The atmosphere in the bar is simply amazing as different bands grace the stage every night. Visitors are guaranteed quality music from different world-class bands throughout the week. The bar hosts an open mic night every single Tuesday. The open mic nights are quite something and you are bound to enjoy every part of it. Due to the large number of people coming to the bar, entry is normally free until 2am when they charge.