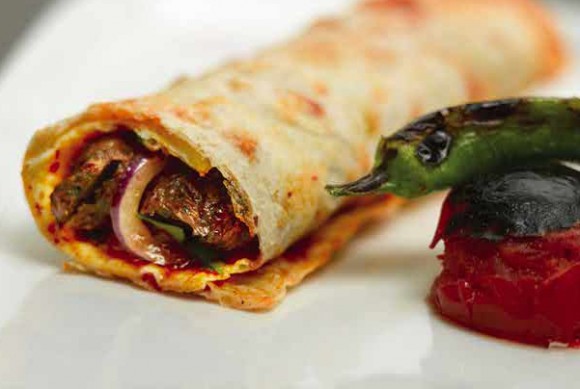 Istanbul is famous for its delicious foods with both eastern and western influences and it hosts some of the most amazing places to eat in Turkey. The grand bazaars, the busy streets, the high class locations, they all hide wonderful restaurants more or less known by the tourists. There are millions of visitors who come to Istanbul every year just for the tasty, traditional dishes that they can only find here. It takes time and passion to find and enjoy these hidden culinary sanctuaries, but the experience is definitely worth it.
Particularly popular for its incredibly delicious Kebab, Istanbul hosts the most delightful Kebab restaurants in the whole country. Antiochia is one of the most well-known Kebab restaurants in Istanbul, especially for its delicious ?i? et, a wonderfully flavored dish made of marinated beef, grilled over a charcoal fire. Dürüm, an incredibly tender minced meat wrap with a nice combination of fresh vegetables, is unquestionably the most savory in town. Keep in mind that this is a relatively small restaurant and you might want to book a table before actually going there, just to avoid surprises.
Located in the heart of Istanbul's Grand Bazaar, Gaziantep Burc Ocakbasi is a lovely restaurant that serves amazingly scrumptious food in a nicely decorated environment. Enticed by the delectable scent that comes from this apparently simple restaurant, people can enjoy delicious dishes ranging from appetizing salads to succulent meat. Being in the middle of the Grand Bazaar, this restaurant might be difficult to spot because of the everlasting crowded streets, but once you will find it, you won't regret your journey!
Gram is another special place in Istanbul where you can taste mouth-watering dishes made by two passionate cooks. Even though Istanbul is a highly cosmopolitan city, sometimes it can be difficult for vegetarians to find a proper place to eat. Gram is suitable for vegetarians as it offers a wide palette of delicious foods made with seasonal vegetables, incredibly tempting pastries and guess what: there are all typically Turkish! Eating at Gram is a way of combining your way of life with the local culinary traditions. However, this classy restaurant can offer a variety of meat dishes as well as enticing deserts.
Situated on the Bosphorus, in an impressive boat-dock, Rumelihisikari Iskele is a high class restaurant offering a tremendously picturesque view of an inspiring medieval fortress. Visitors can enjoy an incredibly pleasant ambience along with the impeccable service delivered by the dedicated waiters and the talented chefs. The food here is extremely flavorful, the ingredients are always fresh and on top of it, there is quite a wide variety of traditional drinks available at the restaurant's classy bar.
Detailed here are some established eateries in Istanbul but it's always a delight to sample street food in new and exciting cultures. If you do venture outside of the restaurant scene, be sure to have up to date travel insurance just in case, your stomach takes a turn for the worse! For the best deals use Debenhams Travel Insurance.