When it comes to shopping, Vienna is one of the top European destinations, due to its extravagant boutiques, luxurious fashion chains, epochal antiques and unique shops. To ensure you have more in your purse to spend on shopping make sure you check out the latest deals at accommodation providers Oh-Vienna. This stunning city offers an extensive range of opportunities to purchase everything from opulent jewellery, stylish cloths, and bohemian furniture to refined perfumes and fascinating works of art signed by some of the most famous artists.
Surprisingly enough, some of the most elegant palaces in the city host numerous sophisticated shops selling antiques, perfumes, jewellery and many more. Shopping in one of Vienna's palaces can be a unique experience, so you should not think twice. Situated in the beautiful Freyung Square, the Ferstel Palace is home to some interior design studios, a stupendous chocolate shop along with a myriad of other shops selling one of kind pieces of furniture. At a walking distance from the Ferstel Palace, there is the Harrach Palace, an imposing edifice, housing inspiring art galleries and house ware retailers.
The Old City Centre is the most enjoyable area for fashion-addict shoppers, as it contains amazing brands and countless stores.  From top-notch shoes to unique pieces of clothing, this exciting area has it all! Some of the most popular shops in the Old City Centre include Liska, an adorable store selling bags, clothes and shoes under the signature of Yves Saint Laurent, Dior, Fendi and many others. A royal-like boutique, Sisi Vienna is only selling Austrian clothes and accessories, inspired by the elegance of the Empress Elizabeth.  One of the most luxurious shops in the city, Chegini is home to some pretentious brands, admired by high-class customers. With its best-kept secret feel, Pitti is a lovely shop, featuring brands such as Celine, CarShoe, Nina Peter and Miu Miu, among many other top designers.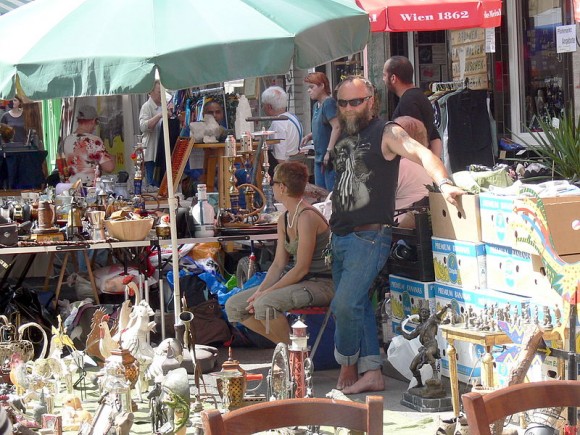 One of the most impressive shopping centers and galleries in Vienna is Art Up, an amazing place for startup, local designers who want to display their pieces of clothing, shoes and accessories in a public space. This striking shopping center is filled with unique, daring and provocative fashion bits, be those eclectic bags, quirky shoes or creative accessories. Would you fancy for something odd? Than, Art Up is definitely the place to go!
One of the most popular flea markets in Europe, and probably the most renowned one in Vienna, the Flohmarkt is an ideal destination for the antique lovers. A ramshackle market with a touch of fairy-tale, Flohmarkt offers a huge variety of clothes, books, records, postcards and generally speaking, a lot of ancient stuff. This particular flea market is extremely special, due to the fact that one can literally sense its history only by walking around the narrow streets filled with antiques. Although there are many such markets in Vienna, Flohmarkt is a must see, especially because the special ambiance that it provides its visitors with.
From fashionable clothes, elegant furniture, unique jewellery, quirky accessories and stylish shoes to luxurious brands, Vienna has a lot to offer when it comes to shopping.