Cancun, situated on the southeast coast of Mexico, is a world-renowned destination for tourists. A popular tourist destination, with its tropical climate and other popular attractions, Cancun draws in nearly four million visitors a year. Here we highlight five irresistible reasons to visit this vibrant city.
The beautiful beaches
Boasting some of the most beautiful beaches in the world, Cancun offers up nearly fifteen miles of white sandy beaches, fringed with a wide range of accommodation options to make this the perfect sun, sand and sea destination.
Salsa dances take place almost every Tuesday and Thursday to add colour to these and the night parties are some of the best in the world. Along with a typical temperature of 26C, temperature of water at 32 C and with 250 days of sunshine, if it's a beach holiday you're after then check out these Cancun all-inclusive deals with Air Canada Vacations.
The Electric Night Life
The party and nightlife scene in Cancun is what casinos are to Las Vegas. Batcha and Azukar offer the best of salsa music. Another party house Cat's offers no cover charge and reggae band blends the Caribbean music with local flavour. La boom conducts one of the largest bikini contests while plenty of fun is offered by Daddy'O and Daddy-rock with these hip hop and rock stars.
Sight Seeing
Discover the mysterious Chicken-Itza, a renowned archaeological hot spot in the capital of the Mayans. Also don't miss IK -KIL Connote one of the better places to have a swim. The Tulum adventure provides you with the best Yucatan experience consisting of sky cycling, swimming, tree climbing and lots more to thrill you. Don't forget to devote a day at the Xplor adventure park, where you can drive amphibious vehicles and raft via caves. Just make sure you leave home with a sense of adventure!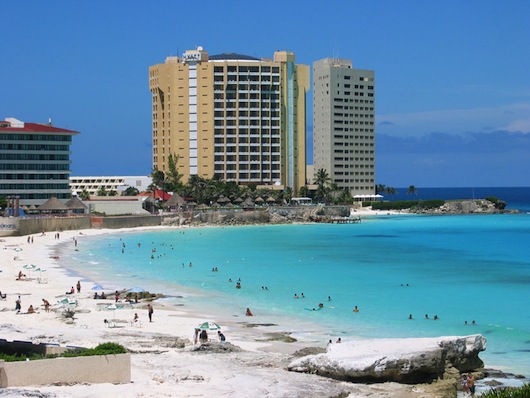 The Food
Cancun is a cosmopolitan city with a culinary scene to reflect this. You'll find a wide range of restaurants serving up dishes from all over Mexico and around the world. As well as this Cancun also has its fair share of local and typical delicacies. Be sure to try out Kibi, a famous dish of baked wheat balls stuffed with cheese or meat, accompanied with chopped onion and small pieces of orange and chili.
Shopping
Kukulkan Plaza offers the best bit of Cancun shopping experience. With more than sixty thousand square meter area, nearly three hundred shops, almost anything you want can be found there. These are the best places to find authentic Mexican crafts. Among the best are the street vendors, having magnificent art pieces and handmade jewellery.
Added to these tourist attractions is the nature of the local people, which is generous and kind. Miles of stunning shoreline, limitless luxury hotels, along with a non-stop party atmosphere have changed this once a sleepy village into a world-class holiday destination.