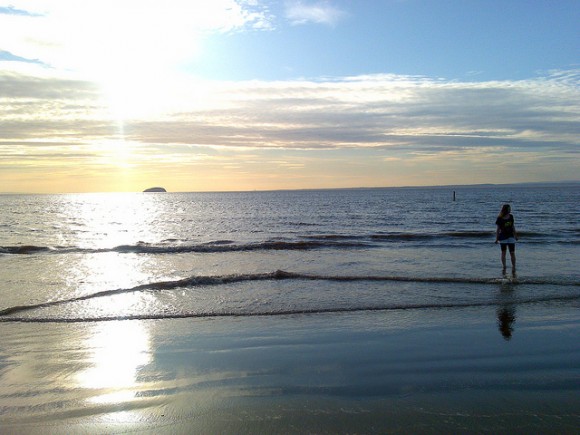 Somerset; a little corner of the UK often overlooked by the masses heading to more 'fashionable' Cornwall and Devon for their summer holidays.  Stop in the West Country throughout the year and I guarantee you'll be surprised by what Somerset has to offer.  Why not look a little closer and give it a go for your next holiday?
Beautiful beaches
When it comes to beaches, Somerset has something to offer everyone.  For great surfing and kite-surfing opportunities head to the quieter but picturesque beaches of Brean or Berrow.  Choose from Weston-super-Mare or Minehead if you're after a traditional seaside holiday experience.  The newly-opened pier in Weston offers traditional fairground amusements as well as theme park-style rides.  The touristy resorts are best avoided during the summer holidays; stick to the quieter spots for a better day out!
Cider and folk music
Where better to enjoy a refreshing glass of cider than the county with more than 35 producers?  Somerset is very proud of her cider heritage and encourages visitors to give one of the traditional drinks a try; you'll soon be hooked!  Local band The Wurzels are popular in these parts and many local groups perform covers of their most popular tracks.  Come the weekend you'll be hard pushed to find a local pub without a traditional West Country band.  Go in and enjoy; you won't regret it!
Nature at its best
Somerset is home to wonderful countryside notably the Exmoor National Park and Quantocks and Mendip Hills both designated as Areas of Outstanding Natural Beauty.  This beautiful landscape has been inspiring locals for generations, Wordsworth and Coleridge called this area home, and it's easy to see why.  Head onto the Somerset Levels for miles of unspoilt countryside with unique wildlife spotting opportunities punctuated by charming towns and villages.  After a day on the Levels, you'll be ready for a well-earned rest.  Renting a cottage for a holiday in Somerset is a great way to explore the West Country.  With plenty of space for all your gear and your own kitchen, it's also much better value for money than choosing a hotel.  Perhaps you'll choose a holiday cottage with a hot tub or an open fire for a really chilled out evening.
Cars to castles
However you choose to spend your time in Somerset, you'll find something to keep you entertained.  The huge variety of attractions throughout the county means that even those with the most obscure of interests will leave happy.  The International Motor Museum in Yeovil is home to more than 400 cars from classic 1950s motors to modern supercars.  Not only a day out for petrol heads, this is also a great trip down memory lane for those who enjoy a touch of nostalgia.  For something a bit more traditional, Dunster Castle is a great day out.  The castle was once a feudal stronghold before becoming a family home for several centuries.  Explore the castle before enjoying a walk through the garden which is home to a variety of unusual plants and offers glorious views over the Bristol Channel.