Navigating your way around a new country is never easy, and dining out is a past-time especially fraught with etiquette pitfalls. In a city like Abu Dhabi, considering what to wear and how to behave is not only a matter of respect, it will help you fit in with the local community, and avoid causing offense, particularly at Ramadan. Fortunately, the restaurant scene in the city is buzzing, and with new eateries opening all the time, you'll have plenty of incentive to venture out for a culinary adventure. There's a venue for every occasion, so read on for a few options to ease you into the experience.  
For takeout
Whether you crave sushi or pizza, sometimes food just tastes better when you don't leave the building to get it. In Abu Dhabi restaurant delivery is a doddle, with hundreds of places offering to bring you a sampling of cuisine from across the city. Bring the old school American diner home with some burgers and fries from Johnny Rocket's, or settle down with a Domino's for two in front of a movie.  
 For morning coffee
Leopold's of London is a swanky little café serving up superior coffees, brunch and take-out in several relaxed but smart venues around the city. Munch on eggs benedict or vanilla bean pancakes for breakfast, watch the world go by, or indulge in a cake and some coffee prepared by their expert baristas for a weekend treat.
 For a business lunch
If you're in a hurry, don't squander productivity on waiting for your food to be prepared. Abu Dhabi excels at the buffet, so grab a plate and join the queue at Citrus in the Millennium Hotel. The lunch buffet kicks off at noon, serving up an international selection as well as more traditional Arabic fare, along with a rainbow selection of deserts worth leaving room for.  
 For a romantic dinner
Indulge in a lobster dinner with your significant other in Pearls and Caviar, a venue that boasts a terrace with a view of the canal and Sheik Zayah Mosque. The modern, sleek design has the texture of a monochrome perfume commercial, have a glass of champagne on the roof terrace before descending for dinner to feel like a true celebrity.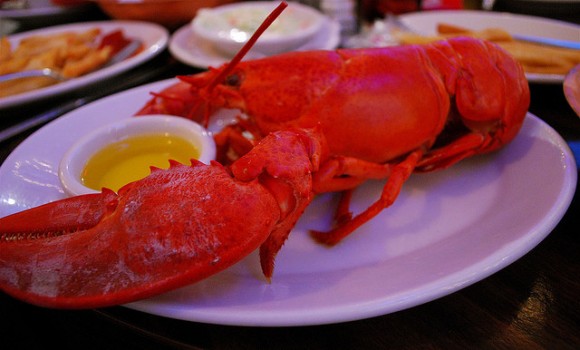 For something different
Lovers of literature will be enchanted by Shakespeare and Co., a quirky chain with décor that defies description, but if you were to have a stab at it, you might venture shabby-chic baroque. With venues in several of the malls this café and patisserie has a palpable Parisian vibe, with eye-snagging cakes and jewel-like chocolate boxes just begging further exploration for those susceptible to a sweet treat.
Abu Dhabi is certainly one place where you won't go hungry. Not only that, you certainly won't have to worry about getting bored of eating the same thing over and over again. You can somewhere different every day. There's plenty of supply. You just have to make your demand (but politely, of course).
Images by Carolyn Coles and valkyrieh116, used under Creative Commons license.