Imagine visiting a hotel made entirely of Ice! The ICEHOTEL is truly a magnificent example of a fusion between art and nature, creating an unusual yet breath-taking form of architecture. Each room is carefully sculpted using snow and ice, and each one unique to the next. The only thing protecting you from the ice when you sleep is a Reindeer skin, draped over the bed of ice.
Just like any other hotel, you will be greeted by receptionists in the foyer, and can sit at the Ice Bar and have a drink if you like. Many people flock to the ICEHOTEL to examine the beautiful sculptures or even get married in the Ice Chapel, giving meaning to a truly white wedding!
Whilst staying at the ICEHOTEL, some of the most popular activities to do nearby include husky sledging, which you can also organise for your airport transfer. You could have fun on a snowmobile, go reindeer sledging, or how about a moose safari on horseback for something with a difference?
And if you have had enough skiing in the beautiful landscapes surrounding the ICEHOTEL, then why not settle down and enjoy the unique craft of ice sculpting at the hotel. Guided by an expert, you will be shown how to create your own masterpiece out of ice. And the best sculptures will be showcased in the restaurant that evening! Be warned though, it can be very addictive and fun!
But what better way to end your evening than with witnessing the Great Northern Lights. The ICEHOTEL offer trips to the Abisko Sky Station where it is thought you can get a much better view of the aurora borealis. And you can also choose to visit the Northern Lights via a husky safari, snowmobile or even perhaps on horseback!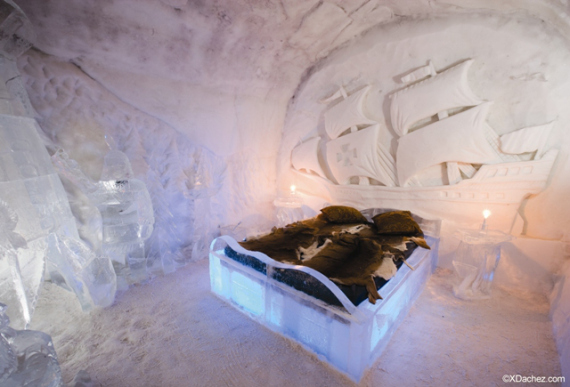 And if you would really like to experience the sami culture of this Swedish Lapland, the ICEHOTEL offer wonderful excursions to the sami camp in Jukkasjavi, where you can learn the skills of reindeer sledging as well as enjoying a traditional meal in a lavvu, before returning to your room at the ICEHOTEL.
The entire experience of the ICEHOTEL and what it has to offer it truly breathtaking, and with so much to choose from, you are sure to find something suited to you. From exhilarating husky or reindeer sledging to creating your very own ice masterpiece or perhaps relaxing with an evening meal while witnessing the incredible Northern Lights, the ICEHOTEL offers an experience of a lifetime.