Once kids arrive, most couples are forced to change their expectations of the 'perfect holiday' and accept that trekking through the Amazon or partying for seven days in Ibiza is no longer an option. Fortunately for everyone, family holidays need not be boring and there are loads of great family friendly holidays you can look forward to during the parenting years. Ideas for family holidays All-inclusive family-friendly beach resort holidays are the popular choice for parents of babies and small children.
You can make friends with like-minded families and enjoy features such as separate mealtimes for kids and children's entertainment day and night. If this sounds like the ideal holiday type for your family, there are plenty of family oriented resorts in Europe and beyond—just find one to suit your budget and enjoy a relaxing week in the sun while your kids are kept fully occupied from morning to night. Theme park holidays are a fun option for families with older kids and teenagers and staying on-site at a theme park is full of advantages, not least the fact that it gives you preferential access to the rides.
All kids love theme parks and some of the best UK theme parks have on-site hotels so you can extend the fun for several days. For those with more cash to splash, there are also plenty of big name theme park resorts in foreign locations—a trip to Disney World probably being top of most children's wish list. Camping is a popular budget holiday for families and millions of families pack a tent and go camping every year. But if the thought of sleeping in a soggy tent for a week appals you, you can also opt for 5* facilities at a European campsite complete with proper beds, cooking equipment, and a nice pool.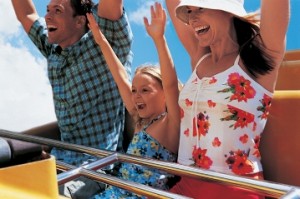 Activity holidays may also appeal to families with older children. Choose from horse riding to cycling or sailing holidays on the continent and combine family time with some physical activity. Or alternatively, book a break at a resort that offers kids clubs with a wide range of fun activities. You can relax by the pool while your kids learn a new sport or practice their arts and crafts. And if you have a bit more money to spend on your annual family holiday, how about taking the kids on safari?
Most kids only ever see wild animals on the Discovery Channel so seeing them in the flesh is a fabulous experience, especially for budding naturalists. African safaris combine fascinating wildlife with oodles of relaxation and kids are just as welcome as adults—you can even opt for a few days in the bush followed by a week in a beach resort for the ultimate family holiday. Whatever your situation, there is a holiday type out there that will suit all members of the family! If you're interested in planning a safari trip, want to explore the outback, see the sights of Egypt or simply find a luxurious beach resort that's family friendly, then speak to The Ultimate Travel Company who can help you plan the perfect family getaway! Visit http://www.theultimatetravelcompany.co.uk/holiday-types/family for more details.