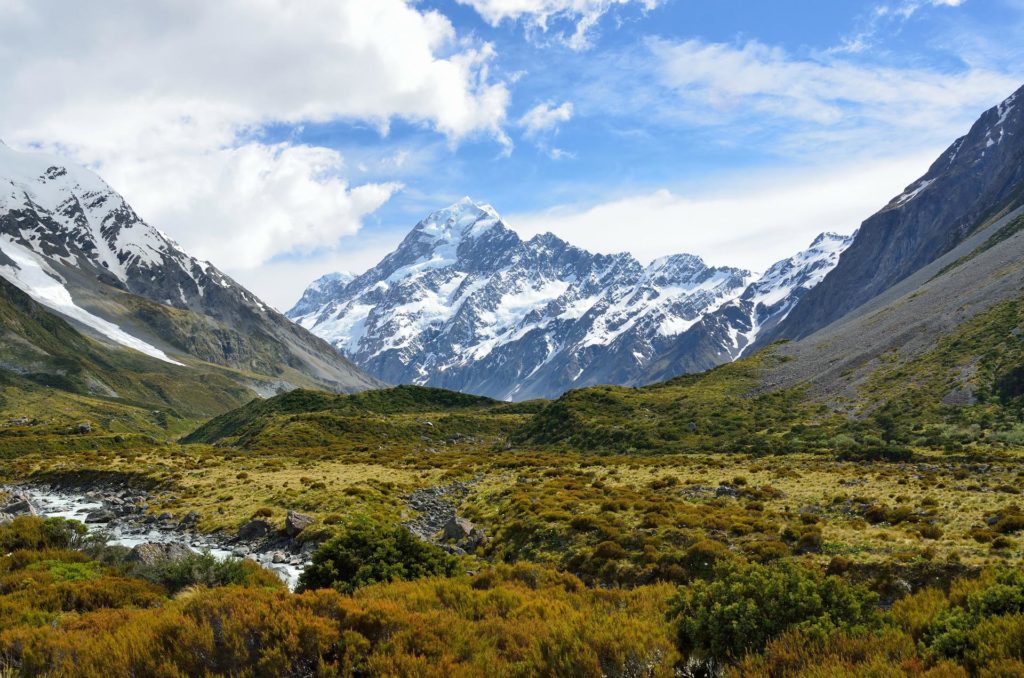 New Zealand is a land of dramatic landscapes, lush green meadows, and steep rocky cliffs. It's an unbeatable tourist destination, where you can start your day off skiing in the ice valleys and finish it relaxing on the sun-soaked beach. No wonder that New Zealand regularly ranks in the top positions of world's best countries list.
Are you lucky enough to be heading there for your next vacation? Or are you just looking for reasons to include it in your bucket list? If you want to get the most out of it and your time (or budget) is too limited to see it all, opt for a South Island tour of New Zealand. The larger and less populous of the country's two major islands invites you to become filled with wonder at the world's most spectacular sceneries. Read on and taste at least five of them!
Marlborough and its beautiful Sounds
Less than 400 kilometers north from Christchurch lies the beautiful region of Marlborough. Known for its world-class wineries, this place mainly attracts those who seek leisurely spent holidays at a slower, more relaxing pace. While sipping from their glasses of delicious wine, visitors can marvel at the unique beauty of Marlborough's famous Sounds – 1500 kilometers of waterways created when the Pacific Ocean filled the dried valleys of New Zealand's ancient rivers. Enjoy clear seas and sandy bays from the deck of a boat, or stretch your body kayaking in this scenic environment. You can even take a hike through the wild forests surrounding the picturesque coastline.
Milford Track:  the finest hiking trail in the world
Just a short drive away from Queensland lies one of the world's most popular hiking trails – and definitely the finest one in the country. Milford track is a 53,5 kilometers long walk through the magnificent valleys used firstly by Maori people for the gathering and transportation of precious stones. The trek can be completed in 4 days will take you along some of the country's top sites like the second biggest lake called Te Anau, second highest waterfall called Sutherland, and of course Milford Sound with its indescribable views. No wonder this track has approximately 14000 visitors each year! But don't worry about the crowds as the park allows only 90 trekkers a day to enter it, leaving plenty of space for an undisturbed and tranquil experience.
Otago central rail trail
Originally serving as an important railroad, this track now invites keen cyclists to explore New Zealand's South Island from the saddle of their bikes. This scenic trail will take you five days and you will be introduced to the rich history of Zealand's gold mining. Admire unique landscapes during the day, and then chill in the country pubs at the evening. Forget about civilization and enjoy the adventure in some of the most remote parts of the island's inland. The trail itself is the biggest non-farming source of income in this area, which probably speaks for its unspoiled character more than anything else!
Abel Tasman beaches
No trip to New Zealand would be complete without taking some time off at local magnificent beaches. The best ones on the larger of island can be found in the Abel Tasman National Park near its northern tip. They can accommodate literally any taste! Surfing, kayaking, swimming, and all kinds of water activities can be enjoyed here to the fullest. Spend a night under the stars in Anchorage campsite, or choose one of more sophisticated lodges. And don't forget to walk to the nearby Cleopatra's Pool – wonderful natural rocks pool fed by the stream with unusual yellowish waters.  
Franz Josef Glacier
Tired of sunbathing? Head to the Westland Tai Poutini National Park on South Island's West coast to enjoy a completely different environment. Yes, it's going to be cold, white, and slippery, so bring over your skis and jackets! Franz Josef Glacier will help you understand the great power of moving masses of snow that have formed most of New Zealand's natural beauty. Sadly, it will also give you an opportunity to see the impact of global warming at its worst, as the glacier has rapidly retreated in the past decade. Another good reason not to postpone your South Island tour of New Zealand any more!