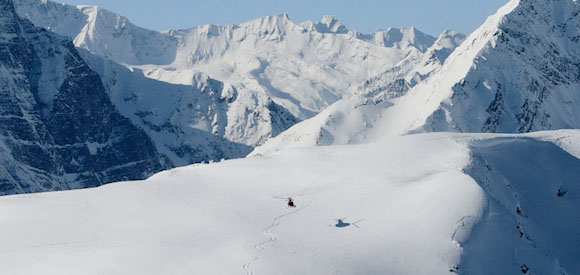 Are you planning a winter vacation? Poking around online, looking at the same old winter getaway packages? Wondering what's the best way to have a great time with friends or loved ones, experience some excitement, and enjoy the true freedom of the great outdoors? If so, then heli skiing may be the vacation for you!
Although helicopter skiing might be considered by some to be an 'extreme' sport, it's definitely safe, inexpensive, and ever more popular among vacationers. In fact, it has truly changed the way people ski. As the name suggests, helicopter skiing is somewhat self-explanatory. It's downhill skiing made accessible by a helicopter. The chopper is used to transport you to the exclusive skiing destinations and then pick you up at the bottoms of your runs. Many resorts are located on magnificent, otherwise remote or inaccessible mountain ranges where there is a heavy amount of annual snowfall, such as beautiful Revelstoke or Golden, British Columbia—truly some of the most gorgeous locations in the world.
Exploring those natural, uncharted environments makes the heli-skiing experience all the more amazing, as you are truly free from any long line-ups, noisy crowds, or predetermined restrictions. The natural topography, trees, glistening snow, blue skies and rapid contours make the experience a stunning revelation. Because heli skiing is off-trail, you can literally carve your own path through the powder. A few feet of light snow overnight is all it takes to cover all traces of other skiers who've come before you, allowing you to explore and carve your own way. Snowboarding or skiing on two feet of powder will make skiing on the packed snow of traditional 'hills' all the more unappealing.
Powder Guides Backcountry Skiing & Heli-Skiing is not only a wild adventure, but it's a fantastic sport that few people will ever experience, or even consider. Once the helicopter takes off, you'll find yourself in the middle of nowhere, on a virgin peak where the snow conditions are ideal. Heli skiing allows you to be transported to the best ski conditions in the world. It's a skier's dream. You won't be following in someone's tracks, so each turn you make will be in new snow. The sport can accommodate small groups of people (perfect for friends and family), and each run will be accompanied by a trained and trusted guide. No chairlift shuttling skiers up the mountain (and no snow-plowing kids slowing you down) means it's just you, your friends, and the mountain.
An incredible heli skiing adventure in BC will provide you with all necessary safety equipment, warm and cozy lodges for delicious meals and comforting drinks, and competitive prices. If you need any assistance with choosing the best run or the right equipment, help is always available. So this winter, instead of thumbing through the same old ads, or driving to your nearest bunny hill, consider heli skiing! It's more than a vacation—it's an adventure!