You're young and you're single and you're in Europe. You're answerable to no one and you're at your peak and now's the time for a summer romance. And when you're travelling you have the unquantifiable advantage of romancing people you don't know and may never see again and that should give you the courage to make an approach, introduce yourself with an assumed name and personality and even livelihood if you like, and ask out a stranger.
And now what? In your own element in your own country dating is enough of a nerve-testing ordeal, but the downside of visiting someplace new is that you're visiting someplace new and you probably don't know where to take a date for a guaranteed good time.
Whatever you were planning on doing as a lone tourist is probably suitable but just in case you think you've met the one and want the first date to be one of many then below are some sure-fire, low-budget, conversation-starting, romance-igniting evenings out in some of Europe's most romantic capitals.
Paris. Midnight picnic on the Seine
For this night out to be a success you need a date, a bottle of wine (or two), one baguette, cheese, sausage and summer. In fact an umbrella and scarves and a positive attitude can spread this into Spring and Autumn. The key to this plan is that it's not even a little bit unique and you just need to pick a spot and be friendly and you'll be picnicking with like-minded individuals with all the advantages of a group date without actually needing to know anybody. When you've sufficiently impressed one another a private romantic walk along the Seine is exactly one step away. Quai des Grands Augustins is on the left bank of the Seine facing Ile de la Cité and, hence, Notre Dame. Of the various midnight picnic spots this has probably the best view and you'll find a nice mix of young people following this very advice. Further East toward the Sorbonne you get a slightly denser and more local crowd of university students playing bongos and guitars and speaking mostly in French. Pont des Arts is very convivial and probably the most touristy but has the only slight drawback of thousands of padlocks woven into the railing by lovers observing this recent and, as of lately, rather annoying tradition of symbolically locking their love to the bridge and throwing the keys into the river. The rebel crowd climbs over the fence to drink wine and smoke drugs on the western point of Ile de la Cité which, as a municipal park, closes at 21:00.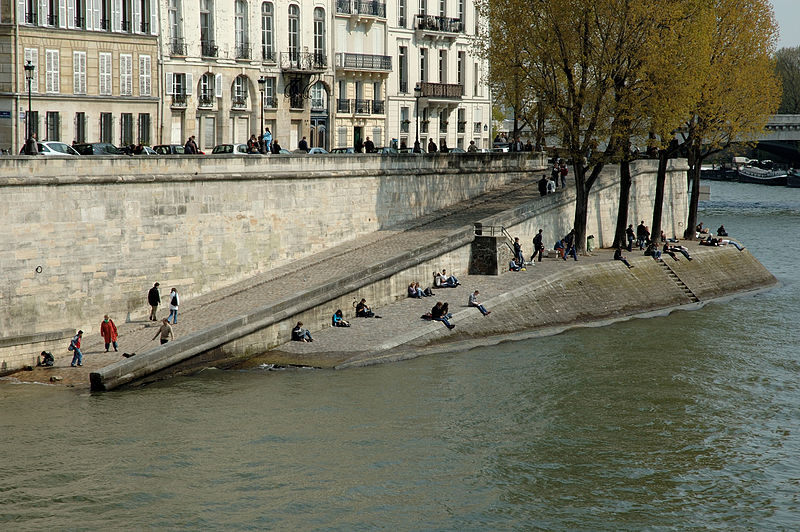 London. Pub comedy
You need to eat and you could probably stand a pint anyway so a pub is an ideal first date for a couple of strangers just arriving in London. First dates can be awkward, though, and the safer option might be to make sure there's a distraction. And you're in London, home of pub comedy, so that distraction might just as well be hilarious.
The Comedy Store off Leicester Square is probably the best pub comedy in London but it's also the most polished, professional and pricey. Don't go there on a first date. Go instead to the Comedy Café or the Lion's Den or just look in Pub Comedy under Standup in Time Out magazine. Try to make a point of selecting something near where you're staying and go on open-mic night for the friendliest atmosphere and by the end of the night you and your date will have at least one thing in common.
Milan. Buskers in Navigli
The sure-fire first date in Milan for tourists is the sure-fire any date for everyone in Milan – Navigli. Navigli is a residential quarter with a canal running through it and at night it's lit up and festive and scenic in the way that only slightly run-down neighborhoods around dry canals can be when the sun goes down. An evening in Navigli can be a very economical date if you install yourself in one of the bars with outdoor seating (they all have outdoor seating) restrict yourself to wine or beer and the bruschetta and chips they give you as accompaniment to your drinks. That's dinner and drinks sorted, now you just need a little light entertainment and your natural charms can do the rest.
And that's where Navigli really comes through. Evenings by the canal are a non-stop parade of talented buskers, jugglers and, for some reason, fire-eaters. It's a spectacle made all the more remarkable by how unexpected it is so I suggest bringing your date to Navigli for drinks as the sun is setting and acting all coy until the show starts.
Amsterdam. Free boat tour
Amsterdam is all about the water (and the drugs and prostitution but this is a FIRST date) and it's easy to take a guided tour or hire your own boat and get lost. These options are expensive, though, and require maybe more commitment than a first date should and there's little sexier than knowing a secret city-hack like a free boat tour. Behind the central station is a ferry dock that doesn't offer so much free tours as an indispensable service to bicycle commuters who live on the other side of the river. But you don't have to live on the other side of the river and you can go back and forth as you please and there are several routes lasting from ten to twenty minutes. The Buiksloterweg crossing lasts the longest and they all run with varying frequencies on a 24-hour schedule.
If your city's not here or if the season's wrong or some dark trauma from your childhood has rendered you incapable of enjoying pub comedy, remember the advice from above and just do whatever you were going to do if you hadn't met this charming travel companion. There are also some generic guidelines that are almost guaranteed experiences in any city: a lot of museums have one night a week that they stay open late, a campus is never devoid of a group in which a charming couple of travelers would be welcome and if there's a beach then just don't forget to pack for a moonlit picnic.