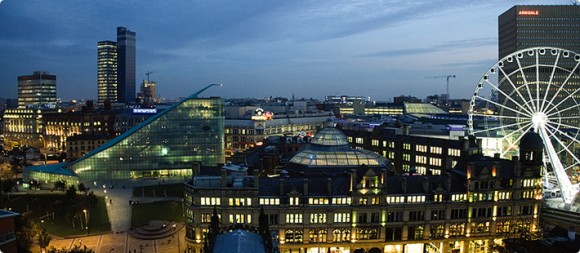 From Japan to Brazil, Manchester United has a far reaching and enthusiastic fan base. Undoubtedly this is due to the team's brilliant players throughout the years, and of course the fame and appeal of the mighty David Beckham. Even though he has retired from the beautiful game, a new generation of football fans from all over the world are choosing Manchester United as their favoured club simply because the legend that is Beckham once played for them.
But no one can call themselves a true Manchester United fan until they have, at least once, watched a home game in the atmospheric Old Trafford stadium. If you are one of the non-Manchurian fans you have to soak up the atmosphere of this great city and realise Manchester is not just great for its football but its culture too. If you are going to be a part of the former you must take a taste of the latter.
Here are the highlights of a trip to Manchester:
Restaurants
Why check in at boring old McDonald's when you can do that in your home city? This city has something to serve every palate. It is the home of the first ever Michelin star winning restaurant in the UK at 63 Degrees, the best choice of tender beef found in various Brazilian Churrascaria restaurants and the legendary Curry Mile offering some of the finest Indian curries available. If you are going for a trip to Manchester there is no need to take a packed lunch!
Theatres
Manchester has a perpetually thriving theatre scene, rivalling that of London's. Many of the biggest West End hits stop off on their tours in this great city.  The most famous theatres include The Palace and The Royal Exchange. In the former you are likely to see contemporary blockbusters or international classics. In the latter you can see challenging and cutting edge work from new writers.
Museums
The National Football Museum is the biggest football museum in the world.  It hosts artefacts such as the ball used in the 1966 World Cup Final won by England, the shirt worn by Maradonna when he scored his "hand of God" goal, and the shirt of the English captain, Cuthbert Ottaway, from the world's first international football game which was England vs. Scotland in 1872.
Also worth visiting is the Museum of Science and Industry which showcases artefacts that highlight Manchester's achievements in Science, technology and industry. There are stunning displays of aircraft and railway trains. Train rides in the museums' grounds on old steam engine locomotives are provided on certain days.
Hotels
In such a welcoming city like Manchester there is no shortage of hotels for you to pick from. All budgets are catered for. From the luxurious Crowne Plaza Manchester to the lower priced Britannia Hotel, you will find a comfortable bed to sleep in and a high level of hospitality, especially if the staff sees you are wearing a Manchester United top!
Get your football shirt on, and get yourself to Manchester for a truly amazing experience.
Jo Tumble is a travel consultant with a penchant for Manchester. She enjoys sharing her travel tips through blogging.