Spain is a brilliant destination to choose if you fancy a relaxing break. Of course, it's a pretty big place, so your first question is bound to be 'where should I go?'. To help you decide, I've put together a brief list of some of my favourite spots to unwind in the country.
Obviously, different people find different things relaxing, so I've tried to include a reasonably varied mix of options. In general, though, I've gone with quieter destinations, as opposed to well-known party capitals!
You want: variety
If you're like me and enjoy having a good few options when it comes to ways to relax, you should definitely consider booking a trip to Majorca. This gorgeous island combines great weather with stunning beaches, lots of sports opportunities and a cosmopolitan capital known for its great nightlife. So, it's easy to relax no matter what you're in the mood for!
Among the highlights are:
• Going hiking in the Sierra de Tramuntana mountain range: This incredible place, which is home to peaks over 1,400 m high, is a fantastic place to get back to nature and enjoy the great outdoors.
• Giving water sports a try: A lot of the beaches are really well equipped here, like Cala Santanyi, which is brilliant for windsurfing.
• Staying in a luxurious hotel: Some of the top resorts include Hotel Cala San Vincenc in Cala San Vincente and the Hotel La Residencia in Deya.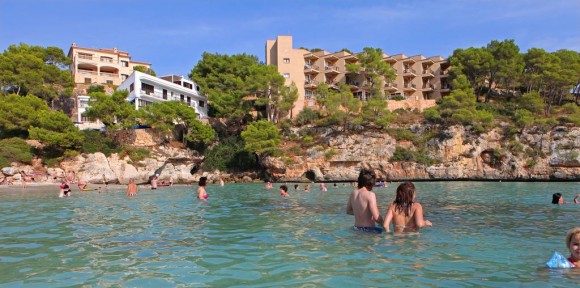 You want: a quiet break
If all you want is a quiet break, Almeria in Andalusia is a great destination to choose. OK, this was once one of the most important ports in the Caliphate of Cordoba, so it certainly has a history of being busy, but these days it's more relaxed, with a gorgeous coastline covered in quiet beaches, a beautiful landscape and utterly amazing food.
Among the things to do while you're here are:
• Get stuck into the local food: Grapes are one of the major crops here, so go for dishes with these in. The breca a la uva, which is Pandora fish with grapes, is especially good.
• Take a relaxing stroll in Nicolas Salmeron Park, which runs along the seashore.
You want: to get back to nature
While it's possible to explore wonderful landscapes in both the above destinations, I think La Palma is one of the best spots in Spain for really immersing yourself in gorgeous surroundings. One of the Canary Islands, La Palma is often referred to as the isla bonita – which means the beautiful isle.
As well as being the greenest of all the Canaries, this pretty island is a UNESCO Biosphere Reserve, which probably gives you a good idea of just how amazing the local landscape is.
If you want to explore it at its best, you should definitely go to Caldera de Taburiente National Park, which is one of the most impressive places on the island's interior. In fact, here you can see the stunning Caldera de Taburiente, which is one of the largest in the whole world – and that manages to look even bigger thanks to the fact that it's surrounded by mountains.
The local beaches, meanwhile, have to be seen to be believed. I suggest going to Los Cancajos Beach in Brena Baja, since this stretch of sand is known for its crystal-clear water and picturesque rocky beds.